Published in Billy Graham's Decision Magazine,
this is the inspiring story of a family that remained committed to living out their Christian faith under totalitarian regimes and would not let life's circumstances keep them down.
From the Nazi regime of Hitler's Germany to the end of World War II and the rise of Communism, from the erection of the Berlin Wall to its celebrated fall, three generations of Michael's family stayed true to their faith in God under dictatorial regimes. Enduring hardships and sacrifices, they witnessed God's faithfulness, provision and sustaining power.  Their dramatic journey through turbulent times of European history ultimately took them from trials to triumph.
A SCHOOL TEACHER IN NAZI GERMANY
Michael's grandfather was the only public school teacher in his city who refused to join the Nazi Party under Hitler. In 1939, the Nazis marched into his house. They demanded that he take down the painting of Jesus Christ hanging above his desk, join their party and conform to their beliefs. He took courage and declared "This painting remains!" Because he refused to join their party, he experienced persecution, lost his teaching position and was sent to the war. After overcoming many odds, and being pulled from execution at the last minute, he returned home alive, proclaiming as he did before: "I Know That My Redeemer Lives!"
Michael's father lost his career in banking for refusing to join the Communist Party. The communists believed they had silenced another Christian voice, yet his voice only became stronger. He became a pastor proclaiming the Gospel in Communist East Germany. When Secret Police agents infiltrated congregations, he told them to do what the government had sent them to do – and listen. Then he shared the Good News.
A STUDENT BEHIND THE BERLIN WALL
Growing up in a pastor's family behind the Berlin Wall, Michael learned at a young age to defend his faith in an atheist society and socialist education system. He and his siblings were among 2 percent of East German students who refused to join the Communist youth organizations and conform to their beliefs. Michael had to choose between his faith and such rights and privileges as receiving a driver's license, participating in his high school graduation ceremony and attending college. When his classmates went on their senior trip, Michael was put on a construction site to carry stones and clean up the trash for this one week instead.
In difficult moments of life, Michael did what he had seen his parents and grandparents do before him: He remembered what Jesus Christ had gone through for him. After being mocked, ridiculed, beaten and spit at, Jesus was nailed to the cross to die for our Salvation. Yet, Michael knew that Christ had risen and that he would provide the strength to follow Him. Michael learned that his self-worth did not derive from the acceptance of his classmates and the world around him but by knowing who he was in the eyes of God, that he was loved and uniquely created and that God had a plan and purpose for his life.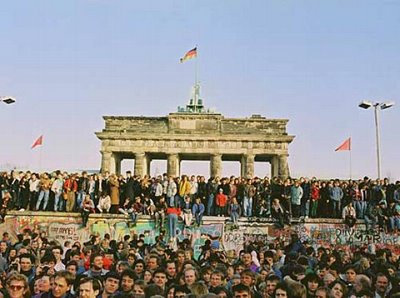 As a teenager Michael took part in the Peaceful Revolution that started within the East German churches and brought down the Berlin Wall. When his family stepped over the rubble of the Berlin Wall into freedom and were reunited with their grandparents and relatives on the other side, they looked back and realized:
"Nazi Germany had ended in ruins and ashes. Communist East Germany had collapsed. The Berlin Wall had come down. Our faith had remained and outlasted totalitarian regimes and man-made empires. It taught us to put our trust in a kingdom that could not be shattered nor destroyed. It allowed us to experience the truth of God's promise — that we can be More Than Conquerors."
HIGHLIGHTS FROM THE STORY
Take a QUICK TOUR by clicking the arrows:
More Than Conquerors
at First Baptist Church of Camarillo, California. March 2015
"We strongly believe that God has given Michael Furchert a timely message for America, and it's wrapped in a multi-generational story with the historical drama of a blockbuster. What Michael and his family have to offer is not only a dramatic story of faith. It's also a timely message to American Christians who are living in a country where God's word is increasingly compromised."
"Michael's story is historically fascinating, personally gripping, and faith-challenging. It is a message, told in vivid detail, that holds much value for American Christians. Rarely does an outsider to American Christianity have as much insight for the many believers of our country."
Dear Mr. Furchert, Thank you so much for sharing your incredible testimony and wonderful gift of music. We are so grateful to God for your strong faith as you have boldly taken a stand for Christ behind the Berlin Wall. Thank you for your faithful ministry! God bless you.